2/12/2022
I have been working on the side on a submission for a contest with the band Studio Killers. Check out my submission on my YouTube page:https://www.youtube.com/watch?v=VvClK6UU3No
Also in the works to start a side-gig as lead animator. It will be a big undertaking holding 2 jobs, but it's not long term and will hopefully give me more opportunities in the future.
In the meantime, would like to branch out and try some stream-of-conscious animations to either spoken word poetry or music videos.
9/5/2021
Needless to say, it's been a few years since I've updated my site.  Shortly after my last post, I was brought back to work at Magnetic Dreams, and have been busy there with a plethora of projects.   The biggest ones were music videos for Blake Shelton,  a motion graphic for Marvel "Absolute Carnage: Breakout", landing a Sesame Street 50th anniversary animation, for which we won a Daytime Emmy, and a short film I was lead animator/VFX artist for called "52: A Tale of Loneliness", which won several film-festival awards.  Things were looking good.
When the pandemic hit, we switched to remote work, and for a few weeks I was worried how that would affect our projects.  Fortunately for us it was a productive year.  I was able to work on a feature-film animation for "Die in a Gunfight", as well as a multiple episode children's animation series.  I can't say much more about it because it hasn't been released yet, but it involved some traditional 2D animation, which made my little 2D heart happy.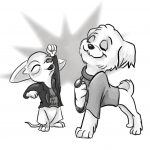 Now wait another 6 years for my next update!
8/12/2015
Current Projects:  Animation for Happy Valley Car Credit, watercolor painting commission, pet portrait commissions.
Non-art related:  I have become certified as a CMT.  I will be attending an agility trial in the coming weeks to promote my pet portraits as well as to give massages to the canine competitors.
5/18/2015
Current personal projects:  Logo design for an up-and-coming animal massage business, brand sketches for a local clothing company, and pet portraits.
Studio work: Sesame Street boards and back plate/asset creation for upcoming episodes of Smart Cookies.