I am Kimberly Cranfield, and I enjoy telling stories through art and animation, especially 2D.  I have designed characters and created animations for commercials, games, film, and TV; notably Nickelodeon, Sesame Street, and Man of Action.  I also illustrate for print such as books or apparel, create custom logos, and paint watercolors on the side.
Skill-set:
concept art
illustration
character and set design
storyboards and animatics
background paintings and layout
animation: Flash and ToonBoom
asset building for games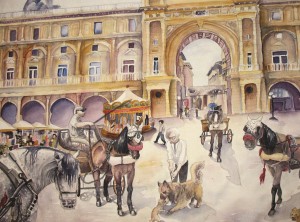 I have studied graphic design and fine art for 3 years at the University of Tennessee, and have studied animation for 2 years at The Art Institute of Tennessee.  I studied art in Florence in 2009.
I currently do freelance animation and concept art at Magnetic Dreams Animation Studios.
Some of my inspirations:
http://www.heathertheurer.com/index.php
…and of course the great artists and animators at Disney and Pixar.
…and also Caravaggio…just throwing that out there.